Bobware™
The software solution for the volumetric concrete producer.
TLC
The comprehensive suite of software applications for readymix and aggregate producers.
Bobware™
Bobware™ is a volumetric concrete producer's dream. The software helps your operation run smoothly and efficiently.
Overview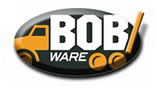 Bobware™ keeps track of orders, tickets, customers, the truck schedule, driver time cards, and much more. The truck schedule is central to the software, and changing the schedule is as easy as dragging orders around between different trucks.
There are also several reports which show you what is going on in your operation, how efficiently you are producing and delivering concrete, and how much that concrete is costing you to make.
More about Bobware™
Find out more at www.bobware.biz, or call us at 866-NEED-BOB.
TLC
TLC is a comprehensive software suite designed to help concrete and aggregate producers run their operations.
Dispatching, Ticketing and Batching

TLC provides your dispatchers with the tools they need to get the job done right. From order entry and job management to ticketing and batching, TLC connects essential personnel and provides them with the information they need, when they need it.
TLC also supports unattended rock ticketing by automating your scale and ticketing process to allow drivers to serve themselves. Using unattended ticketing can greatly increase the amount of material you can move, without additional personnel.
Accounting Integration
TLC can work with any accounting software you may have. By moving order and ticket data from TLC to your accounting system you can eliminate multiple entry of the same data and minimize errors. TLC can also generate invoices itself. This feature allows you more flexibility when using TLC with whatever accounting practices you have in place now.
Using your existing customer database, along with credit information, by importing the data into TLC, can speed integration of TLC into your operation and help control customer credit related issues.
Truck Tracking
TLC has a sophisticated truck tracking module. It can be used in conjunction with any statusing system you choose, or if you have an existing statusing system, TLC can be customized to work with it. The TLC truck tracking module can even be operated manually by having an individual update the statuses on the truck tracking screen.
Reporting
TLC comes with a large set of reports to keep you informed about how your operation is performing.