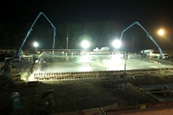 AMS Software provides software solutions that enhance and automate your business processes. We strive to provide high quality service, great software, and significant return on your investment. We work intelligently to provide you with the solutions you need through highly personal service.
While AMS specializes in custom software application development for the desktop and web, we also provide software products and solutions to the concrete and aggregate production and delivery industries. Our products have been developed to be effective and comprehensive solutions to the operational problems our customers face.
Because of our custom software specialty, we can customize our existing software products to suit your specific needs. We spend the time to understand your operation, find out how you want to improve it, and then tailor the solution to your business.
Other services that we provide include consulting in an advisory capacity to help you navigate your technology-related decisions, and network and systems administration.